Yesterday, a soldier stationed in Afghanistan made his final trip home – American Airlines flight 1037.  Passengers at gate C-2, Dallas Fort Worth airport, stood in silence when his flagged draped coffin arrived on the tarmac.  They watched as the flag was folded with precision into a thick triangle, and his coffin slowly disappear into the underbelly of the plane. Fellow soldiers held a salute.  Passengers in the terminal held their silence, not their tears.
My three week trip to Haiti felt less important.  I expected death there, but not here, not today.  At the end of the flight I would see my loved ones in Oregon.  He wouldn't.  My reunion would be filled with joy.  His family's with sorrow.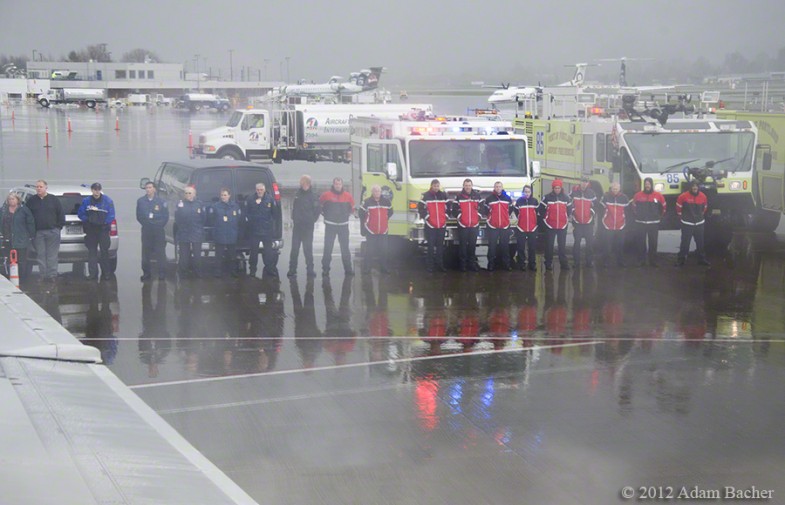 Four hours later, in Portland, water ran down the outer window of seat 21F.  I watched the fallen soldier's  coffin reappear.  An officer presented the flag to his grieving family.  Police, fire and rescue personnel, and new soldiers stood silently.  Tears mixed with rain over the tarmac.
Today I give thanks to him and the many others who have given their lives to protect ours. The following excerpts are comments on loss of a fellow soldier:
"He was one of the outstanding soldiers I had the honor to serve with!  You will NEVER be forgotten! You are a hero not only for your selfless service to your country but every person you touched with a humble heart and a helping hand!  "Greater love has no man than this, that he lay his life down for a friend." John 15:13″
"To my best friend growing up a true patriot and American hero truly one of the greatest men I have ever known.  You will be missed my friend.  To all the good times we had I won't forget you brother.  You were taken too soon and the world is not the same without you here.  Miss you bro."
CORRECTION: In the original version of this story I was given an incorrect name for the soldier on this flight, and have made corrections.
All photographs, COPYRIGHT 2012 Adam Bacher.  All rights Reserved